Indoor P3 LED Display Screen
---
Model: p3 led screen
Indoor LED Display
CE, Rohs Approved
3 Years Warranty
Product Description: Indoor P3mm LED Display Screen, P3 HD LED Video Wall for High-Resolution Application
Indoor P3mm led display screen, P3 HD led video wall for High-Resolution Application
SMD LED with Best Color Uniformity and Reliable Quality.
High Refresh Rate and High Grey Grade with Reliable Driving IC.
Best Power Supply of Meanwell power supply of CE, UL Approved.
LED Cabinet Can be Customized according to LED Display Size.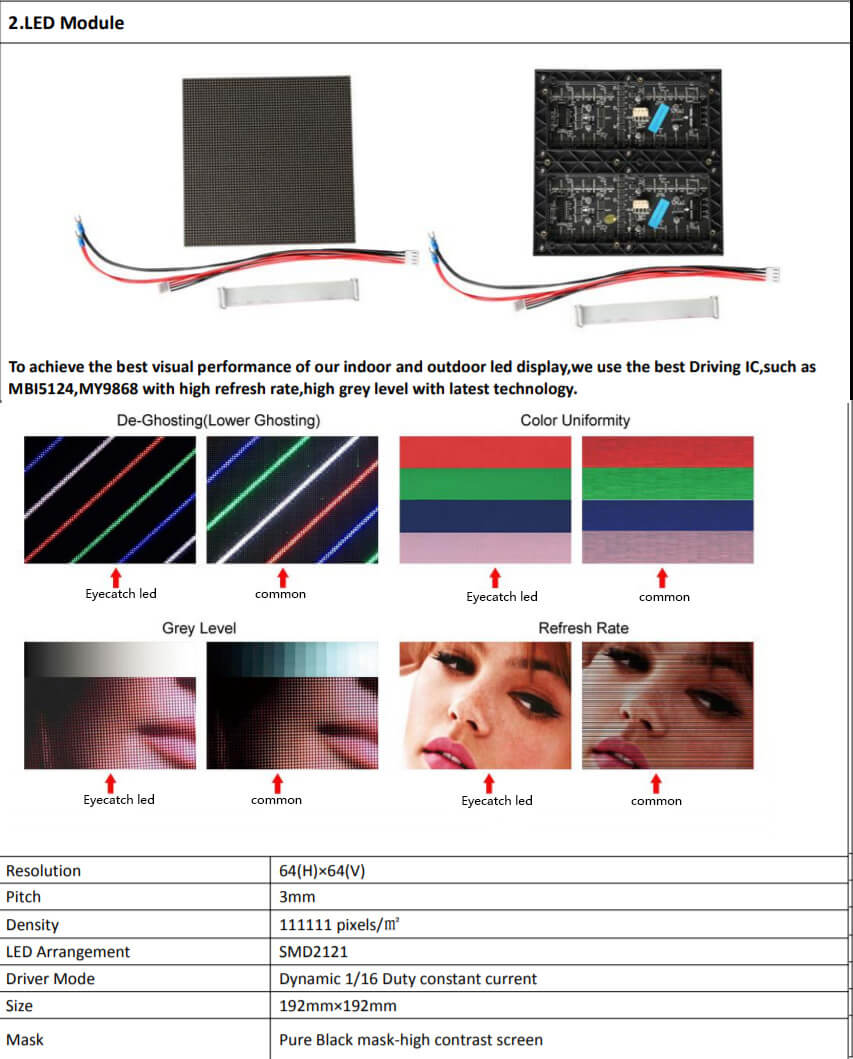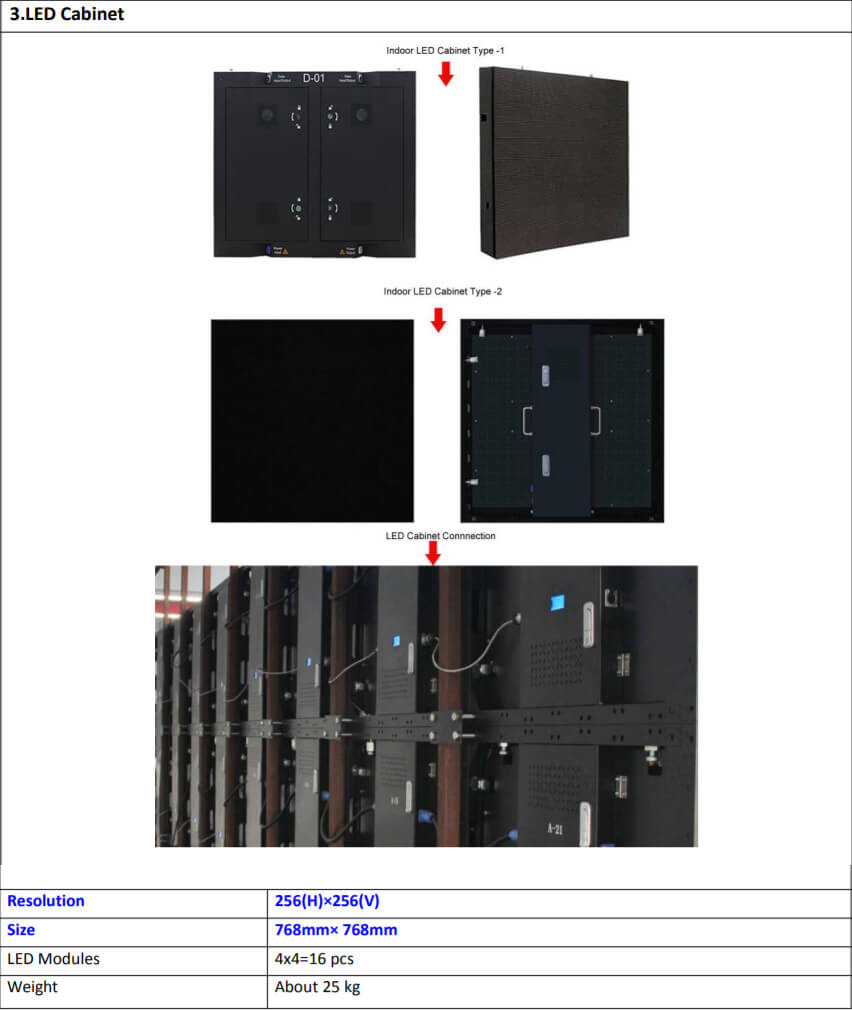 P3 LED Video Wall Specifications:
Pixel Information
Pixel Pitch
3mm
Technology
SMD 3 in 1
Pixel Density
111111 Pixels/m2
Pixel Configuration
SMD2121
LED Module
Module Size
192 mm (Width) × 96 mm(Height)
Module Resolution
64 pixels(Width) × 32 pixels(Height)
LED Cabinet
Cabinet Size
576x576mm/768x768mm/960x960mm are available
Cabinet Weight
50kg/m2
Cabinet Material
Steel or aluminum
Power
Input Voltage
100-240V AC, 50/60Hz
Max Power Consumption
800 Watt/m2
Avg. Power Consumption
400 Watt/m2
Viewing
White Balance
X= 0.33 Y= 0.33 5600°K(Adjustable up to 9000°K)
Brightness
≥1200cd/m2
Brightness Uniformity
Luminance Discrepancy < 5%
Colors
16777216
Grey Scale(Level)
4096
Best Viewing Distance
3m-30m
Best Viewing Angle
Horizontal:160°, Vertical:160°
Ambient Conditions
Temperature Range
Storage:-40deg. to +85deg.; Working:-20deg. to +60deg
Operating Humidity
10%90%RH
Ingression Protection Grade
IP31
Processing
Scanning Mode
1/16 Scan
Refresh Frequency
180HZ-600HZ, Adjustable
Signal Input
DVI, Composite Video for Live Video
Supported Networking
Through LAN/WAN, RS 232/RS485
PC based
Other
Life Span
50,000 – 100,000 Hours
Software
Linsn
P3 Indoor LED Display Features:
Wide viewing angle: The horizontal and vertical viewing angles are so wide that it is suitable for the environment of wide Horizontal.
 High contrast, High refresh rate, and High brightness.
The brightness can be adjustable to meet the need of changing the requirement of customers in the environment.
Energy saving and environment protection, antistatic, dust-proof, good heat dissipation, cost-effective.
High reliability: using distributed scanning technology and module design technology that make higher reliability and stability.
Favorable effect: using dot to dot calibration technology makes the image clearer and the layering stronger.
Steady and reliable system, with strong anti-interference ability and long service life that can continually work for over 24 hours.
Convenient installation and maintenance of display modules.