With the growing popularity of LED display screens and their ability to meet customers' needs, single-sided LED display screens have become increasingly inadequate in providing customers with a wider viewing range. With double-sided LED displays having replaced single-sided LED displays as the industry standard, these new displays are becoming increasingly popular with customers and businesses alike.
The article chapters as below:
1: Main features of Double sides LED Display Screen
2: Main Classification of Double sides LED Display Screen
2.1. Double sides Front opening LED Display Screen
2.2. Double sides Full Front LED Display Screen
2.3. Double sides Transparent LED Display
3: The Application of Double sides LED Display
4: How to Setup the Double sides LED Display
1: Main Features of Double sides LED Display Screen
Dual Display;
usually, the screen size shouldn't be too large(One cabinet=One LED Display);
The LED display screen on both sides can share one LED control card, and it adopts partition control;
Hanging installation is the main style, some others will choose the Standing installation.
2: Main Classification of Double sides LED Display Screen
2.1. Double sides Front Opening LED Display Screen
The main feature of this product is that it is a front-opening display, which means that the screen can be opened from the front of the product, thereby avoiding problems with waterproofing. Its main drawback is that the display is rather thick and heavy and may require support under the chin.
Considering this problem, the designer begins by creating a new design for the cabinet. The materials used include steel and aluminum. In this case, the cabinet design is dependent on your needs and environment.
Double sides Front-opening LED Display
Cabinet Material
Steel
Aluminum
Density
7.87g/cm³
2.7g/cm³
Cabinet weight
70kg/㎡
58kg/㎡
Melting point
1538 ℃
660.32 ℃
Cabinet thickness
280-300mm (Without the module)
180-250mm (Without the module)
Cabinet size
Customized according to the demand of project and module size.
Pixel pitch
P3, P3.91, P4, P4.81, P5, P6, P8, P10
Protect level
IP65
Application
Usually used for outdoor, if you want, it also can be used indoor
Summary
1. The density of aluminum is about one-third of steel. Therefore, the weight is much lighter.
2. Aluminum has excellent corrosion resistance and oxidation resistance. When exposed to air, an oxide film is formed on the surface, which can prevent further corrosion. But Steel will keep oxidizing.
3. Aluminum has better heat dissipation than Steel.
Based on these features, here are some recommendations:
If you choose the aluminum-fronted LED cabinet, it requires a special case to ship or install. Because aluminum is a brittle material, it does not have a strong ability to withstand impact and cannot hold up under normal use. It's easy to deform or damage.
For the double-side front opening LED Display, the maximum height of the screen for each cabinet cannot exceed 3m. This is because the top of the cabinet must leave space for an opening. In addition, due to the structure of these cabinets, they cannot be stacked up and down.
No matter which one of these cabinets you choose, they all have their own pros and cons. However, their prices are considerably lower than the aluminum version. When choosing a model, you must also consider detailed installation instructions.
2.2. Double sides Full Front LED Display Screen
Although the double-sided front opening LED display brings many possibilities to different projects, it is not always ideal for every application. Therefore, a front maintenance module was designed to allow the screen to be maintained easily without requiring the removal of the display.
For Full front maintenance double-sided LED display, the cabinet is also made of steel or aluminum. Its cabinet size can be customized depending on the size of the LED module.
Compared with the traditional LED display, the main advantages as below: 1) Thin cabinet. 2) More convenient installation and maintenance. 3) More flexibility in application.
Even though there are more stringent waterproofing and heat dissipation requirements for the front LED screen, the cost of this model is higher than the traditional model.
Front service module with screws
This model is held together with screws that are screwed into the front. However, there are some design problems that make it difficult to use to go far. Maintenance costs are too high and the assembly cost is too high. So this model is slowly being phased out.
Full front service module
To solve this problem, the front maintenance module has been produced.
The tech parameter as below:
Module size
250x250mm
320x320mm
320x320mm Aluminum bottom
Pixel pitch
P3.91, P4.81
P4, P5.33, P6.67, P8, P10
P5.3, P6.67, P8, P10
    Application
Outdoor
Cabinet Material
Steel or Aluminum (The size can be customized)
Thickness
180mm (Without the led module)
Disassemble
Free professional tools to remove the module
Protect level
IP65
IP68
Picture
For Non-Aluminum Bottom LED modules, please pay attention to the following installation steps:
When installing the LED, pay attention to the water seal and lock the module in place.
In addition to choosing the IP68 aluminum base LED display and the waterproof design, it is also best to choose an edging structure for its wiring ports. Although the waterproof design will prevent water from flooding in, heavy raindrops may still infiltrate under heavy rain. In the face of heavy rain, you can also choose the IP68 aluminum base LED display to avoid it, but the price will be more expensive than the other.
You can add two rings to the cabinet, and then you don't need to dismantle the module to hang it up.
2.3. Double sides Transparent LED Display
For transparent LED displays, the common design is an LED display with one side showing different images. Some double-faced displays have two sides that make it appear as though they are both active at once. Take it in short, double-sided displays are simply two faces of display that are combined to create a more lifelike effect.
Common Pixels are: P2.52, P2.6, P3.96, P6.94, P10.4, P16.66.
Features & Advantages
Superposition Advantages: The dual display can be viewed from both sides, making it more useful and more satisfying to the users.
Customized: Based on what our customers want, the Double-Sides Transparent LED Displays is a customizable product. The modular design makes it could be customized by the customer into any shape and size. Unlike the ordinary type products, this product provides many more choices for customers in size and price.
Higher transmission of light: Transparent LED displays to have a clear crystal appearance. They allow people to see through them, so they don't distract from the view of the building. They are also known as ice screens. The appearance of transparent or double sides transparent LED displays is like a high-definition window. This enables you to see the works of art more clearly and in great detail.
Sense of Science and Tech: The single-sided glass panel has been perfected and is now widely used in commercial buildings around the world. It can be installed with ease, no matter the size of an installation or the project type. It combines aesthetics with functionality, creating a beautiful form that can be viewed from both sides.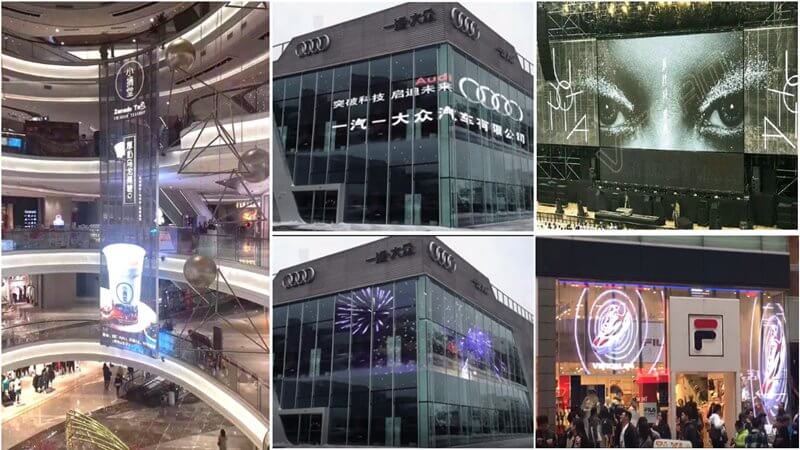 Installation
A double-sided transparent LED screen can be used in such a way that the images on the two sides of the screen are exactly in sync or they can show different content. They are often single-person installed and easily fitted. The average weight of one cabinet is around 10kg and therefore lightweight enough for one person to handle, which is ideal for most situations.
The important thing is one single cabinet couldn't be made into a huge size, but the shape could be cut randomly as your wish.
Above all, the Double sides transparent LED Display is still in the process of developing and improving. So choosing a good supplier is more important.
3: The Application of Double sides LED Display
Double-sided LED screens can be used in different environments, such as the exhibition hall, shopping mall, public place, commercial advertising, and other places. The transparent LED screen is also a great option for the superstore and glass curtain wall.
With the ability to play videos and images, it can display two-dimensional, three-dimensional animation, video, TV, VCD programs, and live events simultaneously. The screen can play different contents on two sides as required.
4: How to Setup the Double sides LED Display
The size of the LED screen and the resolution determine the control method. If you have a screen with a resolution of fewer than 23 million dots, select the synchronous system. If your screen's resolution is greater than 23 million dots, choose the asynchronous system
Power connection: each power cable can only handle up to 4KW.
Signal connection: each data cable can only handle 65,000 dots. Once exceeded, you need to change the second data cable to connect.
If it is a double-side screen, we suggest connecting the two sides together. In this case, we suggest connecting the two sides of the screen and controlling them through the same control card. Or directly connect the two sides of the screen in series, and then control them together.
The RCG file needs to be set up on the control station and the connection file needs to be made according to the actual connection between the cabinet and the receiving card.