P10.4 Outdoor Transparent LED Display
---
Model:P10.4 Transparent
Transparent LED Display
3 Years Warranty
CE,RoHS,FCC Approved
Product Description: P10.4 Outdoor Transparent LED Display, Less Weight and Easy Installation Glass LED Display
P10.4 Outdoor transparent led display, Less Weight and Easy Installation glass led display
Transparent LED Display can be easily fixed on the surface of the curtain wall, and it's not necessary to change any building structure. The standard module size is simple and elegant, High transparency rate for front and back, Perfect lighting, visual like dreaming over 50% of energy than traditional display.
Standard cabinet design, Ultra slim & lightweight
Thin and light
Cabinet dimension:500*500mm/500*1000mm
Ultra-thin design: thickness 40mm
The screen is perfect fusion with building
The PCB board is the most narrow in this line 3mm
Fast lock for cabinet connection
Designed for easy installation
Only 10seconds for one people to assemble
Easy installation and without any other tools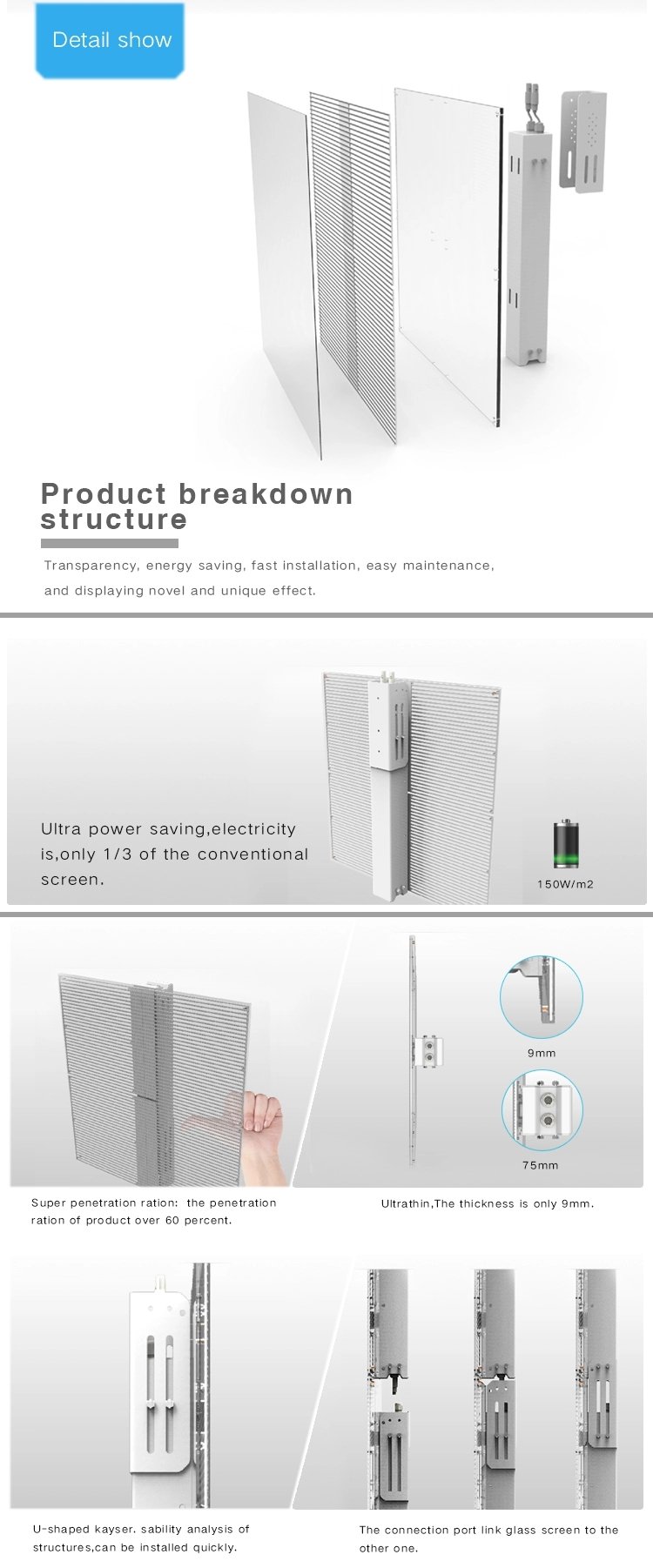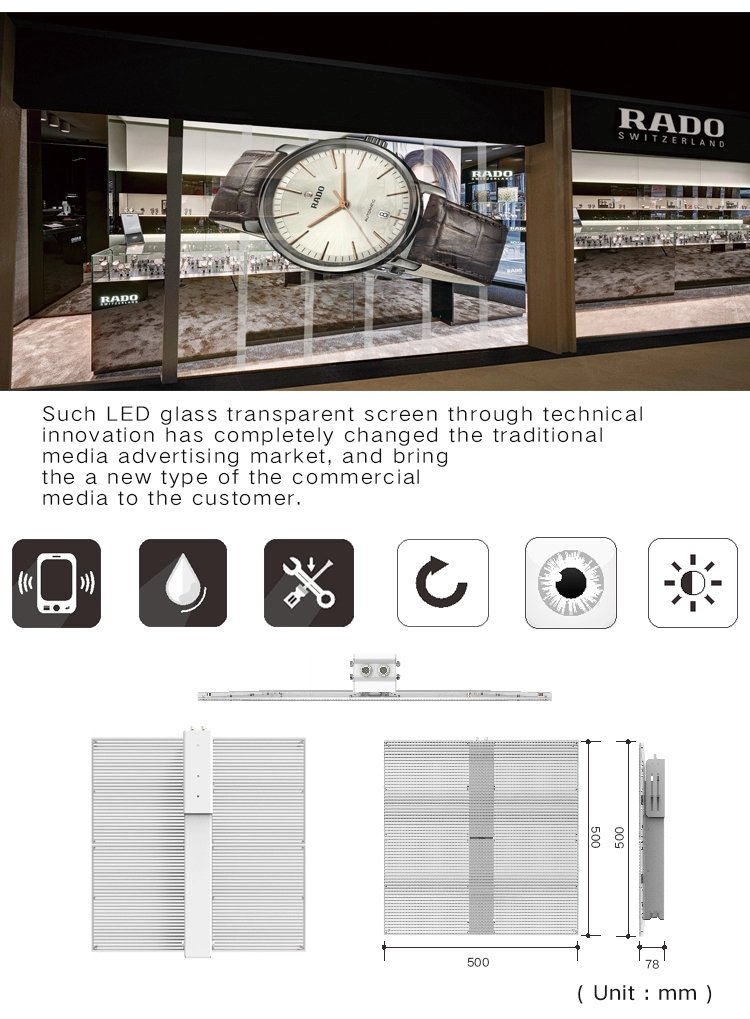 P10.4 Transparent LED Video Wall Specifications:
Model
P3.91
P3.91
P7.81
P7.81
P10.4
Pixel pitch
3.91-7.81
3.91-7.82
7.81
7.81-15.625
10.4
Lamp
Indoor SMD2121
Outdoor SMD1921
Outdoor SMD2525
Outdoor SMD2525
Outdoor SMD2525
Pixel density
32768
32768
16384
8192
9230
Module size
500mm*500 or500mm*1000mm or1000mm*1000mm Can be Customized Size available
Cabinet material
Acrylic Aluminum Steel
weight
15KG/㎡
15KG/㎡
14KG/㎡
14KG/㎡
14KG/㎡
Transparency
65%
65%
70%
75%
80%
Brightness
≥1000nit
≥4500nit
≥4500nit
≥4500nit
≥4000nit
Refresh rate
≥1920HZ
Scan mode
1/165
1/85
1/25
1/25
1/35
Max power consumption
400W/㎡
600W/㎡
600W/㎡
550W/㎡
550W/㎡
Average power
120W/㎡
180W/㎡
180W/㎡
180W/㎡
180W/㎡
PCB
four layers board,2.0mm thickness
Driver IC
MBI5124, High Refresh Rate
Installation
Hanging or Stacking
Brightness level
256 Level
Installation
Indoor IP30
No Steel Frame Structure needed to Save the Cost
The product is directly pasted on the glass curtain wall without changing any structure and, there is a module with special glue on the glass curtain wall behind, which can be cured within 10s, it is convenient and quick, It is not required any supporting stell at all, which can save a lot of installation cost.
Designed for Fixed installation & Rental
Fast setup and easy maintenance, with high transparency and brightness to get the excellent visual effect! Transparent LED Display is ideal to apply at building facades, shopping centers, brand chain stores, airports, financial institutions, stages, and events etc.