LED Display Poster Player
---
Model: LED Poster
Indoor& Outdoor LED Display
CE, Rohs Approved
3 Years Warranty
Product Description: Lightweight High Brightness Digital Poster
LED Display Poster Features:
Ultra-thin and light-weight body——thickness is 35 mm and weighing less than 40 kg, making installation easy and fast.
Optional installation solutions——fold-out stand, Hanging, standby, and wall-mounting can be realized to meet different demands.
HD visual experience——2.5 mm and 3 mm pixel pitch, high refresh rate (2000Hz) and brightness (1200 nits) provide users with the perfect display.
High Brightness of outdoor 3.91mm,4.81mm with >6000 Nits, and Waterproof features for outdoor weather, stable and long lifetime.
Various work modes——besides single display work mode, multiple led display screen can be combined together creatively to bring a variety of display effect and improve the advertising efficiency.
Elegant appearance——aluminum- alloy frame, fully enclosed frosted rear cover, acrylic glass surface, it is a mirror led display and customized border color present enchanting and eye-catching appearance.
Multiple communication modes——communication via USB, WIFI, network cable, and HDMI increase service efficiency.
Highly integrated hardware——integrated internal control system and power supply ensure the independent communication and management without other hardware, saving the CTU for the customer.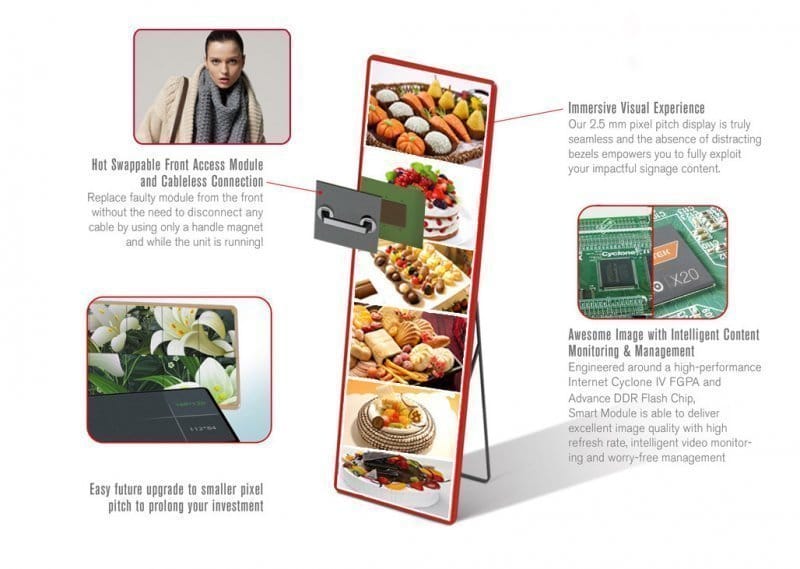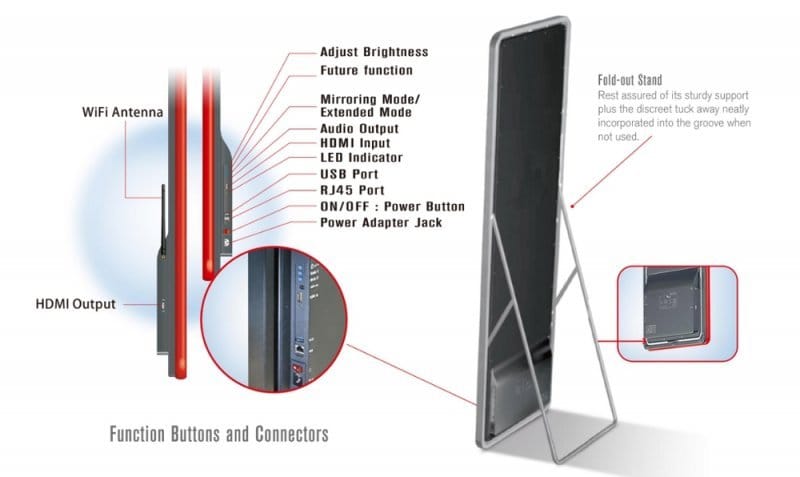 LED Poster Specifications:
| | | | | | |
| --- | --- | --- | --- | --- | --- |
| MODEL | | Poster 1.9 | Poster 2.5 | Poster 2.5 | Poster 3 |
| LAMP | LED Type | SMD(1010) | SMD(2020) | SMD(1515) | SMD(1515) |
| MODULE | Pixel pitch | 1.944mm | 2.5mm | 2.5mm | 3mm |
| | LED module size(mm) | 210×280 | 280×210 | 320×160 | 192×192 |
| | Resolution(W× H) | 144× 108 | 112× 84 | 64× 128 | 64× 64 |
| | LED driving method | 1/27 scan | 1/28 scan | 1/24 scan | 1/30 scan |
| CABINET | LED module layout | 2× 9 | 2× 12 | 2× 12 | 2× 12 |
| | Display area | 1.06m² | 1.23m² | 1.23m² | 1.2m² |
| | Display Size(mm) | 560× 1890 | 640× 1920 | 640× 1920 | 576× 1920 |
| | Cabinet size(mm) | 572× 1902 × 35 | 720× 2000 | 720× 2000 | 656× 2000 |
| | Resolution(W× H) | 288× 972 | 224× 756 | 256× 768 | 192× 640 |
| | Net. weight/set | 32kg | | 40kg | |
| | Ingress Protection | Front /Rear IP40 | | | |
| | Power | AC 240/100±10% | | | |
| | Serviceability | Front service | | | |
| DISPLAY | Max.Power consumption | 600W | 750W | 600W | |
| | Avg.Power consumption | 200W | 250W | 200W | |
| | Viewing Angle(H/V) | 160°/160° | | | |
| | Brightness | 1200~1500 cd/m² | 1000cd/m 2 | 1200~1500 cd/m² | |
| | Pixel density(pixel/m² ) | 169344 | 279936 | 160000 | 111111 |
| | Contrast ratio | 4000:01:00 | | | |
| | Temperature/ Humidity | -10°C to 90% | | | |
| | Lifetime(50% brightness) | 80,000hours | | | |
| | Processing | 16bit | | | |
| | Refresh rate | ≥2880Hz | | | |
| | Frame rate | 60fps | | | |
| | Brightness level | Manually/Auto | | | |
| | Colors | 281trillion | | | |